Children 5 years and older can get the Pfizer COVID-19 Vaccine
As of November 3rd, the FDA has authorized vaccinations for children ages 5 years and older. Scientists have conducted thorough clinical trials and concluded that the vaccines have met the safety and efficacy standards for authorization. The safety of COVID-19 vaccines continues to be monitored.
​
Children between the ages of 2 and 4 years old, and children and adults who haven't been vaccinated yet should continue to wear a mask in public spaces and around other people outside of their household.
How can I schedule a Vaccine appointment for my child?
Check the California Department of Public Health's My Turn, or the CDC's VaccineFinder to schedule your COVID-19 vaccination
Getting vaccinated will protect yourself, and the people around you.
​
For your family, for your loved ones, for the new normal awaiting all of us,
please consider getting the COVID-19 vaccine as soon as it is available for you.
​
Vaccines are a critical new tool in the battle against COVID-19. All COVID-19 vaccines that are being offered have been carefully evaluated for their safety and for their effectiveness in preventing COVID-19 illness and transmission from one person to the next. There is a small risk of getting illness so mild that you would not go to the hospital and not die. Until most of us have received the vaccine, it is still important to wear our masks to prevent transmission whether we have been vaccinated or not. Getting the vaccine will make a difference in your life.
​
For more information on vaccinations and their safety and efficacy, visit the CDC.
​
Find and schedule your COVID-19 vaccination through the CDC's VaccineFinder below
​
​
​
Choosing Safer Activities
Updated face coverings guidelines for unvaccinated and vaccinated individuals
If you're fully vaccinated, you may start doing many things you stopped because of the Pandemic.
Face coverings are still critical for slowing the spread for those who are unvaccinated.


Scroll through our member-friendly infographics for additional information. For more information, visit the CDC or CDPH.
mRNA vaccine administered in muscle of the upper arm
2 shots, 21 days apart
mRNA vaccine administered in muscle of the upper arm




2 shots, 28 days apart
Johnson & Johnson's vaccine
Viral Vector vaccine administered in muscle of the upper arm



1 shot
Vaccines now available between 5-11 years of age
California mandates vaccine requirements.
Dispelling myths regarding the COVID-19 vaccine
Vaccines now available between 5-11 years of age
Vaccine Inquiries
Vaccination of Children
---
Adolescents as young as 16-17 years are included among individuals eligible to receive the Pfizer vaccine. Children under the age of 16 years are not authorized to receive the Pfizer COVID-19 vaccine at this time. Children under the age of 18 years are not authorized to receive the Moderna COVID-19 vaccine at this time. Children under the age of 18 are not authorized to receive the Johnson & Johnson vaccine.
---
Vaccine Administration
---
Pfizer and Moderna COVID-19 vaccine series consist of 2 doses administered. Johnson & Johnson consists of 1 dose.
Pfizer-BioNTech: 3 weeks (21 days) apart
Moderna: 1 month (28 days) apart.
Johnson & Johnson: no interval
The second dose should be administered as close to the recommended interval as possible. Persons should not be scheduled to receive the second dose earlier than recommended. If the recommended interval can not be adhered to, the second dose of Pfizer may be administered up to 6 weeks after the first dose.
---
Vaccine Coadministration
---
mRNA COVID-19 vaccines are not interchangeable with each other or other COVID-19 vaccine products. In exceptional situations where the first-dose vaccine product cannot be determined or is no longer available, any available mRNA COVID-19 vaccine may be administered at a minimum interval of 28 days between doses, except Johnson & Johnson's which requires 1 dose. Given the lack of data on the safety and efficacy of mRNA COVID-19 vaccines administered with other vaccines, the vaccine series should routinely be administered alone, with a minimum interval of 14 days before or after administration with any other vaccine. No additional doses beyond the two-dose primary series are recommended at this time.
---
Vaccinations with prior COVID-19 Exposure and/or Infection
---
COVID-19 vaccines can be safely be given to persons with evidence of a prior SARS-CoV-2 infection. Vaccination should be offered to persons regardless of history of prior symptomatic or asymptomatic infection. Vaccination of persons with known current infection should be deferred until the person has recovered from acute illness and criteria have been met for them to discontinue isolation. For persons receiving antibody therapries not specifc to COVID-19 treatment, administration of mRNA COVID-19 vaccines is unlikely to impair development of a protective antibody response. Persons who have had a known COVID-19 exposure should not seek vaccination until their quarantine period has ended.
---
Vaccination with underlying conditions
---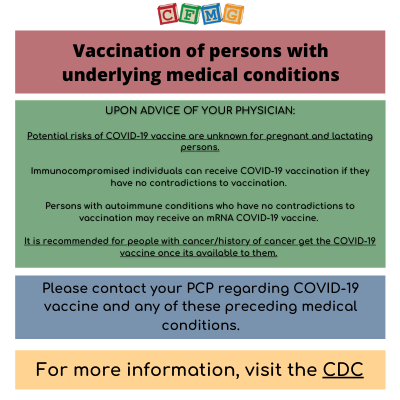 Immunocompromised individuals can receive COVID-19 vaccination if they have no contradictions to vaccination. They need to continue following all current guidance to protect against COVID-19. Persons with autoimmune conditions who have no contradictions to vaccination may receive an mRNA COVID-19 vaccine. It is recommended that most people with cancer or history of cancer get the COVID-19 vaccine once its available to them. Re-vaccination is not recommended after immune competence is regained in persons who received COVID-19 vaccines during chemotherapy. The potential risks of mRNA vaccines to the pregnant person and the fetus are unknown because these vaccines have not been studied in pregnant people. If pregnant people are part of a group that is recommended to receive a COVID-19 vaccine, they may choose to be vaccinated. There are no data on safety of COVID-19 vaccines in lactating people or effect of vaccines on the breastfed infant or milk production/excretion.
---
Click here to view the information in your language!
---
---
---